Orthotic Solutions
At Anderson Orthopedics we have trained specialists who carry out the assessment and treatment of patients suffering from musculoskeletal and neurological disorders as well as sports injuries.
Whether you want to walk, run, go back to work or continue with your favorite sport, your orthosis will need to be customized to meet your specific needs. At Anderson Orthopedics we strive to help each patient attain their personal goals.
Each persons' limb is different and requires special care to create a comfortable orthosis. Indicators for orthotics may arise from a disease process, traumatic injury or be congenital in nature. We use up to date technology and techniques to make the best orthosis possible so that we can help optimize your function.
Get Started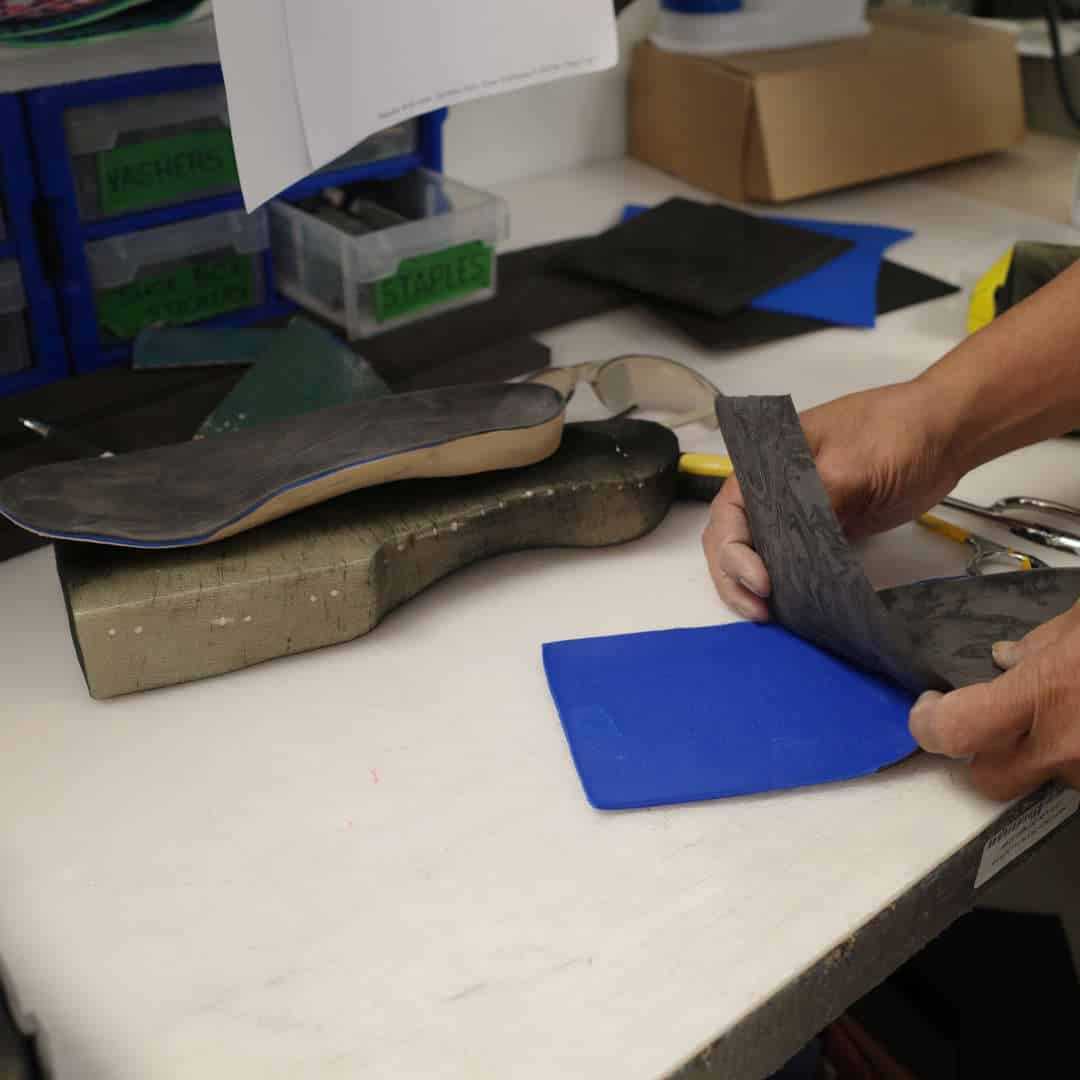 ---
More Information
Still have unanswered questions?
There is 100% Manitoba Health Coverage for approved diagnoses for Manitoba residents with the exception of foot orthotics and orthosis (i.e. knee braces) that are used solely for sports.
After your physician writes the prescription for your orthosis, you will then see your Orthotist. Bring shorts if you require a foot, ankle, knee or hip assessment. Wear comfortable loose fitting clothing for all other assessment.
The procedure is done at one of our clinics, in hospital or at your personal care home. The Orthotist will evaluate you and will take a set of measurements, trace and/or cast your foot/feet, extremity or torso. If a cast is taken, the mold will be filled with plaster and modified by your clinician to ensure proper form. After the cast is dry, the technician will fabricate the orthosis as designed by your Orthotist.
After fitting is complete and you are comfortable and functional, yearly visits are recommended. It is important to check the joints and change the Velcro. At such time, the fit of the orthosis will be checked as changes can take place over the year. Everyone is different and changes will happen at different rates. By all means, if you feel discomfort at any time, please see your orthotist.
The fitting will be done at one of our clinics, in hospital or at your personal care home. The physiotherapist at the hospital/personal care home will usually be involved. You will be shown how to don the orthosis. Your function while wearing the orthosis will be assessed. If the orthosis is comfortable and is functional you may start wearing it immediately. In some cases multiple assessments and modifications to the orthosis are necessary.
Depending on your age, activity level, growth and care of the orthosis, it can last anywhere from several months to several years. MHSC provides coverage for a new orthosis every two years. Functional abilities can change, growth, and change in edema control can all lead to the need for othotic changes. In the case of such changes MHSC will provide coverage before the two year limit, as long as it is stated on the prescription.
Yes, many things can happen that will require brace repair or replacement. Don't wait until the brace falls apart. If you notice loose fittings, torn / frayed padding, or odd noises, please make an appointment for a reassessment. Early prevention will reduce the chance of injury.